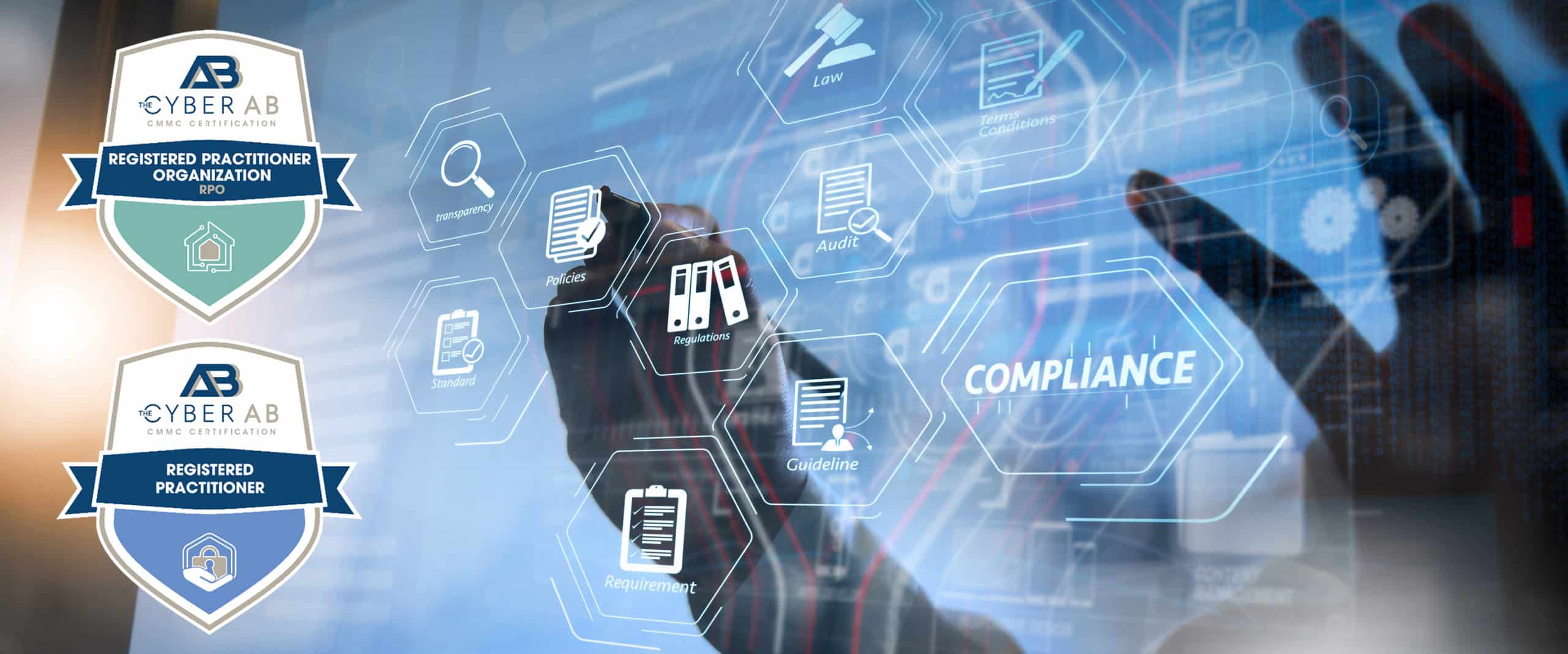 EXPERTS IN OUR FIELD
Ridge IT Cyber is an industry leader in CMMC compliance and remediation. With over six years of consulting services to Defense Industrial Base (DIB) customers, Ridge IT Cyber has extensive experience helping companies meet strict certification standards with the Compliance Maturity Model Certification (CMMC). Over the years, we have helped over a hundred DIB customers go from satisfying a few controls to complete compliance with NIST 800-171 to ready them for CMMC levels 1 and 2. We can work with organizations of all levels, starting with no NIST SP 800-171 framework to those needing help carrying out their Plan of Action and Milestones (POA&Ms). Ridge IT Cyber specializes in raising SPRS scores to ensure compliance, often taking organizations from 45-70 score averages to full compliance.
CERTIFIED CMMC RPO
Ridge IT Cyber proudly serves as a Certified CMMC Registered Practitioner Organization (RPO). We provide pre-assessment consulting services to hundreds of government contractors and other Organizations Seeking Certification (OSC) in the Defense Industrial Base (DIB). Ridge IT Cyber's comprehensive knowledge of cybersecurity compliance and experience makes us uniquely capable of providing value to any supplier's assessment preparations. Our knowledge, experience, and insights prepare companies for successful CMMC audits, enabling them always to meet their compliance and remediation needs. Since the introduction of CMMC, Ridge IT Cyber has seen many Aerospace and Defense companies – regardless of size – utilize internal and external support networks to improve their cybersecurity posture and successfully meet CMMC compliance.
STAFFED WITH RP'S
Ridge IT Cyber understands that managing the requirements of CMMC can be a complex process, which is why we offer consult services to ensure everything is up-to-date and compliant. We staff several CMMC Registered Practitioners (RP) specializing in compliance and cybersecurity, providing them with the necessary experience to help companies meet the CMMC Standards. Ridge IT Cyber's CMMC RPs are well-versed in remediation services and can quickly diagnose existing problems. Our RP's expertise also includes in-depth analysis of systems for any issues related to security and compliance, as well as proactive guidance for avoiding non-compliance in the future. With our comprehensive approach to understanding the requirements of CMMC, businesses can rest assured knowing their data will remain secure and compliant.
WHAT WE DO
CMMC compliance and remediation can be a complicated process for businesses to navigate, but with the help of Ridge IT Cyber, organizations have access to an innovative portfolio of technology offerings that can make CMMC-mandated efforts much more manageable. Our expertise in SaaS solutions takes the burden off in-house IT departments and helps companies meet CMMC guidelines through a single vendor. As certified partners of several leading providers, such as Okta, Zscaler, Microsoft, Crowdstrike, and Qualys, we are confident in providing an efficient solution that meets CMMC standards. With this breadth of offerings available, your company can benefit from the processes and policies necessary to remain compliant.
WHY CHOOSE RIDGE IT AS YOUR TECHNOLOGY PARTNER
We are a Registered Provider Organization with staff trained in CMMC and NIST compliance ready to help with pre-assessments and remediation of technology gaps. We specialize in providing SaaS solutions for IT security, compliance, and collaboration. Companies that work with us enjoy:
Unique Technology Offerings
We selected a series of technology offerings and integrated them to provide a core technology offering that improves business operations and enables you to address the technology controls of CMMC.
Company-Specific Controls
The remaining CMMC controls are company-specific. We work with your company to ensure your company policies and procedures align with the CMMC requirements.
Certified Expert Staff
As solution partners for Zscaler, Okta, Microsoft, and Qualys, our staff consists of trained and certified experts on these technologies. Our engineers comprehensively understand their features and are adept at using them to maximum effect.
Experienced with Federal Compliance
Our solutions help meet compliance with FISMA and NIST, reflecting our background as a federal contractor.
DEMYSTIFY COMPLIANCE AND SECURE YOUR CONTRACTS
Cybersecurity remains a top concern for the federal government and its contractors. The creation of the CMMC reflects this concern and seeks to create a unified standard to improve security throughout the industry. Don't wait until you've lost a contract due to a lack of certification. Contact us today to find out how Ridge IT Cyber can save you time, money, and business by ensuring you've got what it takes to maintain compliance with the new CMMC guidelines.
The Cybersecurity Maturity Model Certification (CMMC) is a DoD program launched to protect the defense industrial base from cyber-attacks and secure sensitive information such as Controlled Unclassified Information (CUI) and Federal Contract Information (FCI). The Framework established by CMMC combines trust-based regulations with new verification components of cybersecurity requirements. As a result, it allows for increased control over the networks, system configurations, and policies. Security practices become emulated, and data handling can be better secured. This way, compliance with DoD requirements is easier while safeguarding sensitive information that benefits companies worldwide. CMMC Compliance and Remediation Services will help organizations plan and implement their CMMC journey efficiently, contributing to improved security posture.
WHAT IS CMMC 2.0?
The Cybersecurity Maturity Model Certification (CMMC) 2.0 program is the Department of Defense's latest effort to protect the defense industrial base's (DIB) sensitive unclassified information from nefarious cyberattacks. The program simplifies compliance and prioritizes the protection of DoD data by streamlining requirements into three levels and aligning those with well-known NIST standards. CMMC 2.0 permits self-assessment for specific compliance requirements, adding efficiency to both DoD operations and industry collaboration in combatting cyber threats. In short, CMMC 2.0 provides a practical framework for compliance and remediation that supports the Department of Defense and industry partners looking to maintain secure systems against increasing digital vulnerabilities. The new Framework incorporates different standards and best practices to protect sensitive data, defend against developing threats, and ensure accountability for organizations following DoD regulations – all while minimizing the obstacles that come with compliance. Aiming to protect both parties in DoD agreements, the CMMC Compliance and the Remediation process is critical in securing sensitive information shared through the DIB.
Book an appointment today to learn more.